Everybody loves dark mode, at least when working at late night — you don't want to burn your eyes by staring at the blistering screen in the darkest possible room.
Up until the writing of this article, the desktop version of Google Docs hasn't come up with a native dark mode which is disappointing considering many Google services already embracing the feature. But that's okay, at least on PC we have many third-party solutions.
In this article, I will show you two Chrome extensions that could turn your Google Docs documents darker (it won't affect the printing color).
#1 'Google Docs Dark Mode' extension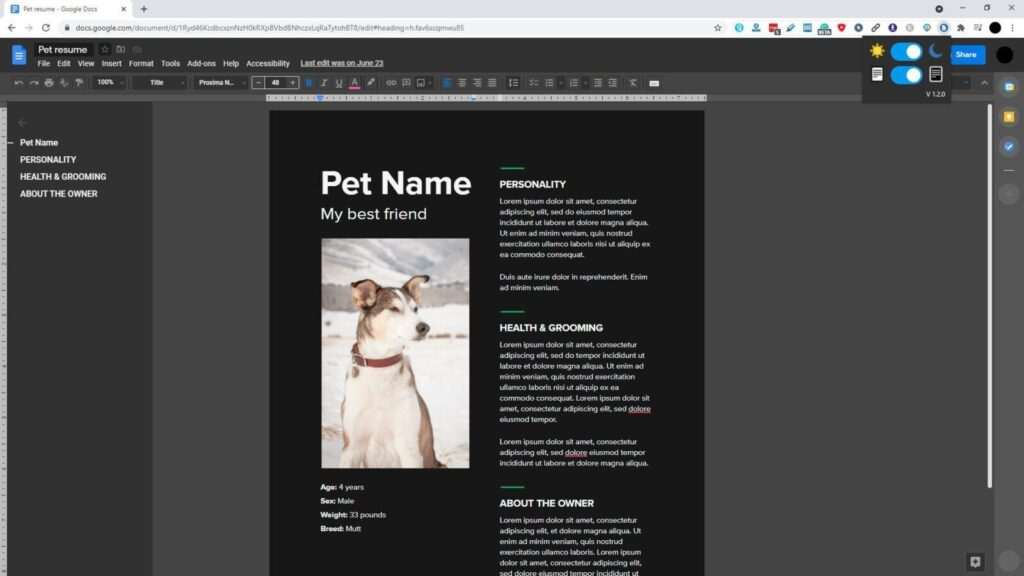 As the name suggests, Google Docs Dark Mode will instantly turn the whole Google Docs page darker and more eye-friendly. It comes with two different settings; dark mode on the layout and on the paper.
You can choose whether you want to keep the paper to be dark grey or normal white. However, the colors across the document aren't perfectly accurate. They seem to just flip the color range to the opposite end, which is fine for black and white but will be strange on everything else.
But hey, it's fairly simple, you can always use the normal paper color, and it only runs on Google Docs, so other websites won't be affected.
#2 'Dark Reader' extension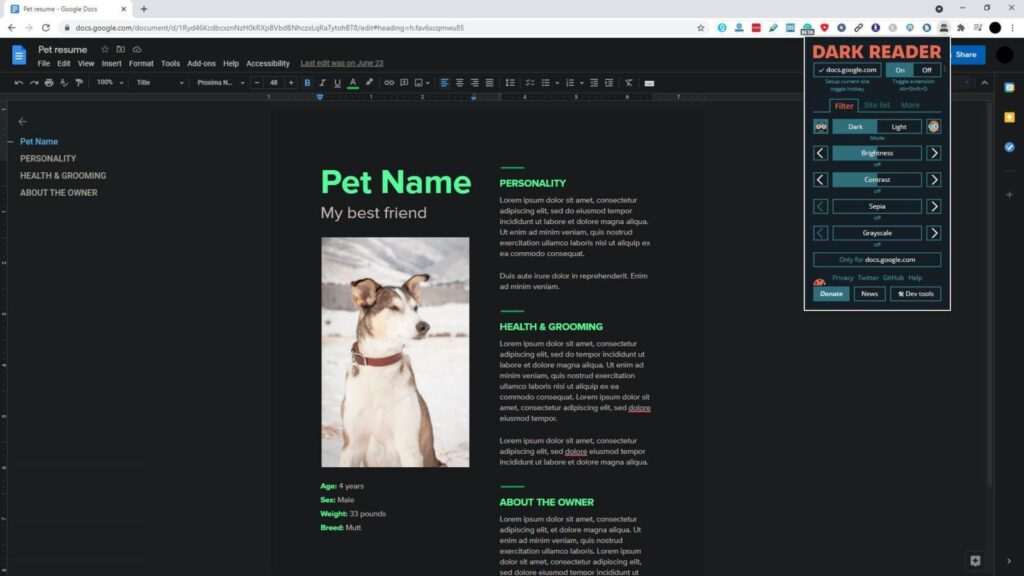 Dark Reader is the ultimate dark mode extension for Chrome. It will dim all websites you visited automatically and allows you to adjust the intensity, contrast, other effects, and even set the time.
Unlike the previous extension, Dark Reader maintains the color accuracy of the document while the background is dark. But to be fair, you can't turn the paper to become white again when the extension is active.
The extension is also rather big as it stores extra more features. Some websites may not be designed to be viewed when a dark theme is running, so you probably ended up having to whitelist them manually.
---
It goes without saying that these extensions will not just work on Google Chrome, but also other Chromium-based browsers like Microsoft Edge, Opera, and Brave.